The rowing regatta season is in full swing with Waterford Boat Club representatives travelling to the Lee (Cork), Castleconnell (Limerick) and Carlow regattas in recent weeks.
The most recent event took place in Carlow on the 2nd and 3rd of June. Waterford were well represented with over 19 crews racing over the 2 days.  Saturday's crews raced in a Club 2 races which are an open category.  J14, J15 & J16 crews held their own over the 1100-meter technical course, securing 2 finals in which they competed against older more experienced crew's. Having beaten Tralee in the semi-final the men's J15 4x+coxed quad raced Carlow J18s matching them throughout the race to finish just 1 length behind.  A great performance achieved by sticking to the race plan.  Enniskillen grammar school got the better of our WJ15 x+ coxed quad crew over the 1100-meter course. However, Sunday was a triumphant day for WBC as they picked up 8 wins racing strong finals.
MJ 15 x4 Robbie Grogan, Cormac Walsh, Luke Shaw Chulainn O'Mahoney, Abby Grogan (Cox).
MJ15 x1 Robbie Grogan
MJ14 x1 Chulainn O'Mahoney
Wj16 2x Lauren Heyes & Leila McGagh
W15 x2 Sinead McHugh
WJ15 x2 Abby Grogan & Kate Skinner
WJ5 x2 Sinead McHugh & Olivia Heyes
WJ14 x1 Abby Grogan
All roads now lead to the National Rowing Centre in Cork on the 23rd of June to compete on a 2k, 6 laned, bouyed course.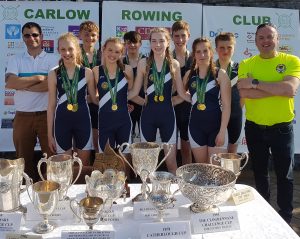 Pictured L-R: Dermot Griffin (Boat Club President & Coach), Abby Grogan, Robbie Grogan, Kate Skinner, Cormac Walsh, Olivia Heyes, Luke Shaw, Sinead McHugh, Chulainn O'Mahoney and Ger McCarthy (Club Captain & Coach)